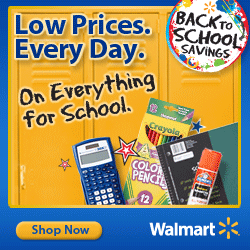 Woo! Been waiting for somebody to put all those
school supplies
in one big box (or even inside a backpack) and put it on sale together?
Walmart
wins the race this week. Back-to-school supplies could never be easier than this. Walmart has supplies, by grade level, even with a backpack in the bundle for very reasonable prices. So you don't even have to sweat going outside and hitting all the stores. Just click and you're done.
Check out the
Value Supply Bundles at Walmart.com
. Grades K-3 has a
value bundle for $10
, and you can add a backpack for just $8. All other grades have value necessity bundles, and bundles with backpacks. You can even click and add on extra items. And,
there is free Shipping to Home on School Supplies at Walmart.com!
Thank you Walmart for making my life easier.
Subscribe
to Mommy's Wish List so you don't miss a deal.